What defines a market leader is the ability to influence the industry in which they operate.
In recent years, Homa's innovative capacity has increased impressively.
Today one of the most critical challenges our firm faces how to translate, make usable and share our innovation with our international partners.
Developing tools that could tell insightful stories to support our customers by transforming that innovation into a valuable commercial success has become essential.
This is the intent with which the "Homa Original Marketing Academy" was born.
Under this umbrella, we are collecting our knowledge to support and elevate the marketing tooling we deliver to our clients.
In a nutshell, we want to give birth to various sets of images, drawings, graphics, animations, and videos that do not remain an end in themselves but are meant to create a specific context and narrate a story that transforms technology into benefits understandable to all.
The human brain can process images 60,000 times faster than text.
Visual contents work because they are immediate, engaging, exciting, evocative, transnational and transcultural, powerfully able to move the deepest part of the human being.
Combining images and text can arouse attention, strengthen the message and prolong the memory.
We have decided not only to develop videos but also to constantly improve the quality of the photos and to support our customers on this path (the Photo Shooting Manual is a tangible example; you can discover and download it here).
We have selected our photographic style by exploiting the proven experience of our marketing team supported by Federico Rebaudo, head of Homa Europe, by commissioning Studio Volpi, the lead agency of Homa Appliances, to foster "unique and original photographic concepts".
From the idea to reality, we explored the international photography scene to select the best professionals to portray the imaginary world that drive our presentations and publications.
We named the first project: #Freshness!
It is a fantastic journey in colours, scents and flavours that we want to share with you via this talk with Mauro Martignoni, the photographer who created and produced the #Freshness! photoshoot.
Let's discover Homa's passion for designing visual storytelling that exalts freshness, thanks to the harmonious colour palette and unique layouts that enhance the peculiarities of each nature's produce, portrayed with natural or geometric compositions inspired by art and nature.
---
Browsing #Freshness
To support and facilitate the "reading" of this unexpected photo book, we quote below some sentences from Federico Rebaudo's brief:
• The goal is to create a powerful and evocative visual experience, a step forward compared to the classic food images".
• "Our job is FOOD PRESERVATION, so we must use only natural, fresh (i.e., non-cooked!) and colourful products".
• "We must represent a beauty that is both artistic and functional, shots that "produce" serotonin in the viewer, evoking a crisp freshness".
• "Far from trivial or déjà-vu: we need unexpected patterns, creating a new, unique and differentiated genre of "food pictures ".
• "We need to unlock a rare and valued result. We are looking for pure gold: incisive, above all, memorable images".
Click to the carousel to view all the pictures in large format
---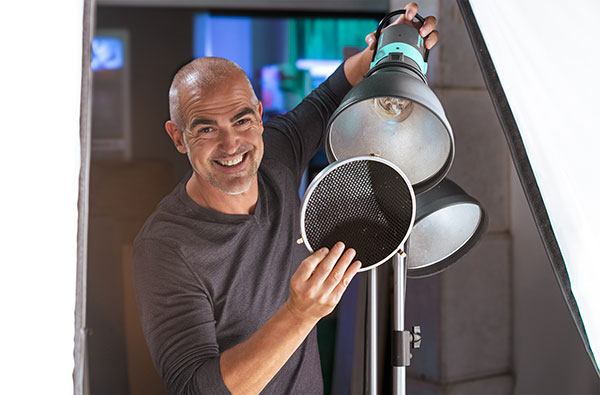 Fireside chat with the Photographer.
In this article we talk to Mauro Martignoni, the photographer who produced #Freshness! He is a well-known professional photographer on the glittered Milanese scene, and his shots are appreciated internationally. He is also the founder and owner of the "Fotografando" agency. A confirmed professional in the fashion and advertising sector, Mauro collaborates with established and demanding firms, supporting them in creating distinctive photographic projects capable of translating the purpose of a company into images.

How did you prepare for Homa's latest photoshoot?
The challenge was to create compositions and textures that would look like paintings and enhance the shapes and colours of the ingredients, that would become an artistic work.

We therefore chose the path of transparencies and worked on ingredients that, when crossed by light, were original, so slices of oranges, limes, strawberries, carrots, pears, salad leaves to give examples.

Another path was the textures one, where we play with repetitions of ingredients such as fish, clams, mushrooms to create a pattern and make the continuous and ordered repetition of a subject interesting.

Being a global project, we decided to use ingredients from international cuisines.

After defining the style of the shooting, we worked together with the agency to define in detail for each shot which ingredients to use, what colour combinations and composition to make.

We thus created layouts for each image, so the formats varied from square to horizontal or vertical panoramic depending on where they would be used within the catalogue.

For some shots it was also important to define 'empty areas' that were not to be filled with subjects in the shot because then there would be text in that area.

Having defined all the layouts and ingredients, a very important professional figure in the field of Food Photography is the Home Economist (or Food Stylist). This person is in charge for retrieving all the ingredients with particular attention to the aesthetic aspect, so for example if a single basil leaf is needed, she finds and select different basil seedlings to give the possibility to pick the perfect shape, size, and colour.

It is a very important professional figure to find the ingredients and then working them to the best advantage on the set and creating the compositions that then convey the feeling of fresh, appetising, and genuine food.

We work since many years with Melanie Weber, the Home Economist who has worked for renowned brands such as Barilla and Ferrero to name but a few. Home Economist and Photographer then work together so that the lighting and positioning of ingredients translates into an appetising food image that conveys the Brand's values: quality, passion for food, freshness, and authenticity.

During the photo shooting we interact with the agency and the client because I firmly believe in teamwork. With the right harmony every professional figure can contribute positively to the success of the project, the home economist positions the ingredients, the photographer and the lighting assistants take care of the graphic and aesthetic aspect of the shoot, while the agency will give input to assure the brand art direction consistency and the production of the different subjects and layout variants to be created according to diversified application for catalogue, web, social.

Attending in real time to the creation process, where the early layouts became photos, enable us to intervene to correct compositions and emphasise key concepts, so that together we can achieve the goals of the project.

To know more about please click here

---
Copyright HOMA 2022- Issued By Homa Marketing dept. on October 2022
For further information, please contact: info@homaeurope.eu