The rediscovery of nature, the need to escape from a grim reality, the strive for wellness, quiet and positivity are the main needs that emerged as a reaction to the global Covid-19 pandemic. They strongly influenced both our daily routines and the trends in interior design.
The domestic space constitutes an increasingly fluid context, a flexible, hybrid space that is no longer merely residential but which takes on a variety of functions: office, gym, school, but also a place to socialise, entertain, relax and rest.
Contaminations due to this multi-functionality have exacerbated the need to make home interiors ever more stimulating, in order to allow people to escape their daily routines and give vent to their creativity.
Here then interior design tries to give these new needs a shape, some colour, and materials.
The new solutions are inspired by nature and the great outdoors as elements able to infuse new life, to reassure and to appease.
COLOUR TRENDS
Domestic spaces need to be reassuring, hence the choice of warm, light colours and natural shades establishing a strong connection with the natural world and the outdoors, thus ultimately with light.
The colours trending in 2022 are:
Cyan sky
Flesh pink
Pearl white
Petrol green
CIAN SKY
This particular shade of blue is inspired by the open, infinite spaces of the sky, itself recently rediscovered and re-valued, on par with nature. Cyan is a symbol of fantasy, wisdom, intelligence, loyalty and faith. It brings an element of otherworldly inspiration to the materiality of nature. It is a positive and relaxing colour, which conveys a sense of  peacefulness and optimism, feelings we are craving for after a long period of uncertainty, but it also brings creativity and  joie de vivre.
COLOUR PALETTE
Since cyan is quite a strong and bold nuance of blue, the best pairings are with neutral colours such as beige, white or dove grey.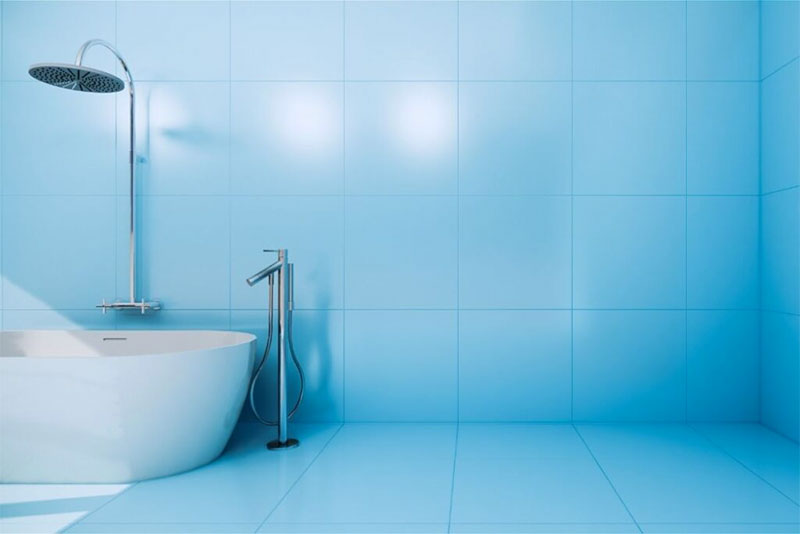 FLESH PINK
Flesh pink, like cyan sky, is found in nature. It stimulates the right hemisphere of the brain, the seat of feelings. It's a strongly emotional colour, capable of conveying a sense of love, care and protection, standing at the opposite end of feelings such as distress, fear and uncertainty which have all too often characterised 2020 and 2021.
Flesh pink keeps solitude at bay, it reasserts our trust in others and expresses our embracing a new, fruitful life. It is no accident that is is often used to symbolise maternity.
Pink is a pale tint of red, softened by the purity of white. For this reason it is associated with romance, sweetness, beauty and refinement.
COLOUR PALETTE
In terms of pairing, since pink is made up of a range of warm tones, flesh pink combines well with beige, dove grey and brown furniture, conveying a sense of luxury and elegance, and also of peacefulness. Bolder combinations, with grey or black, will bring character and personality.
PEARL WHITE
The desire for novelty, for cleaning up our lifestyles as well as our life spaces is the mood characterising our post pandemic societies. White is the symbol of purity and the emblem of hygiene, the new, unavoidable must in all aspects of our daily lives, public or private. Despite being a typical summer colour, white has now also toppled black as a classic winter hit. The trend is hot both in furniture and in fashion. The full palette extends through the entire range of white shades and up to grey, with pearl white as the best expression of change.
PETROL GREEN
Petrol green has been in vogue for some years now, but 2022 will be the year of its consecration as an absolute star. Colour-psychology experts consider this particular shade of green as having a distinctly positive character, able to convey a feeling of peacefulness and for that reason, perfect to help relax your body and soul.
Between green and blue, this colour is ideal for the living room. Petrol-green addiction is a growing phenomenon that contaminated other industries as well, like make up and fashion, where it can express all its vitality. These four top trending colours of 2022 combine well with the vibrant, bright chromaticity of magenta, orange, and every possible hue of pink.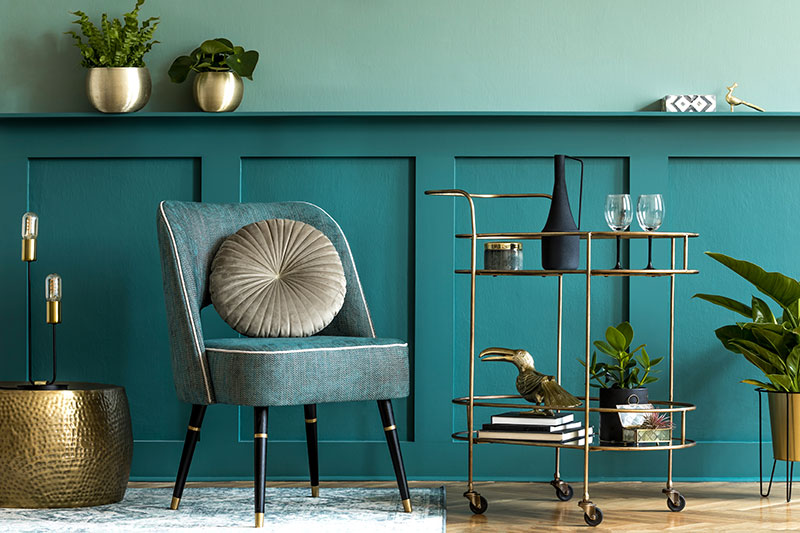 ---
NATURAL MATERIALS
Wood, stone, glass and linen are 2022's top trending materials in interior design. Their success is linked to design's current watchword: sustainability.
WOOD
Nowadays, attention and care for our planet is an important concern for interior design, which translates into wood being extensively used in a variety of applications, from furniture, to accessories, to linings.
The latest Salone del Mobile confirmed the trend to the point that exhibitors' booths and installations were made out of wood themselves.  So let's make way for beech, iroko and ebony, not forgetting ash, declined on both flooring and furniture.
This craze for natural materials is partly explained by their capacity to confer a certain warm intimacy to any room, so as to recreate a sense of balance in our increasingly connected lives, which simply cannot do without a growing number of technological implements. Technology is for sure useful and clever, but it tends to be a little cold and impersonal.
GLASS
In a domestic habitat marked by a crave for light and cleanliness, glass had to have a central role. It is extensively used to create walls, partitions, doors, dressing cabinets, as well as railings, balustrades and table tops.
The transparency of glass allows for infinite possibilities in playing with spaces and volumes, extending or shrinking them according to needs.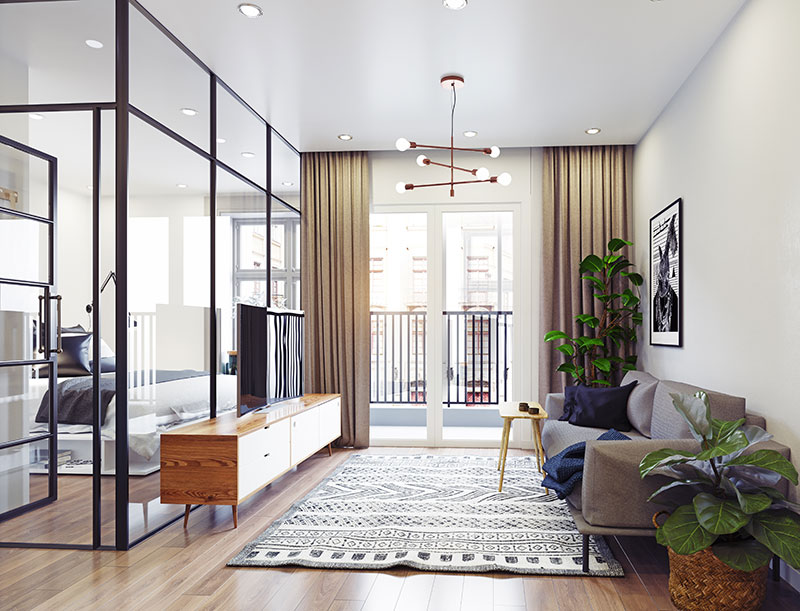 MARBLE
Stone is primarily employed to create walls and floors. Among all the natural stones available, marble is arguably the most prized and a synonymous with elegance, class and versatility. Marble will give any modern, minimalist interior a touch of exclusivity and warmth.
---
MINIMALISM
Minimalism, along with sustainability, is in effect one of Interior Design's major trends for 2022.
The success of this particular furnishing style is without a doubt a direct consequence of the pandemic period, during which a desire for cleanliness, simplicity and balance strongly emerged. Getting rid of all that is superfluous, or simply of old stuff, to make space in our homes, affected our closets, through decluttering, and our furniture alike. Hence the strong minimalist influence in the shapes and the design of our furnishings.
JAPANDI: LET MINIMALISM INSPIRE YOU
The Japandi style is the merging of Japanese and Scandinavian design, in which Far Eastern minimalist aesthetics fuse with Northern European modern functionalism. The concept produces aesthetically pure furniture that privileges the use of natural materials, un-lacquered and sustainable. The mix of dark and light woods, the winding lines alternating with a more rigorous and elegant profile, all contribute to creating a relaxing environment in which to rest and relax.
The dominant colour palette is inspired by nature, with the earthly, dark shades of coal mixed with green and blue, combined with the warm hues of teak for that extra zest of elegance.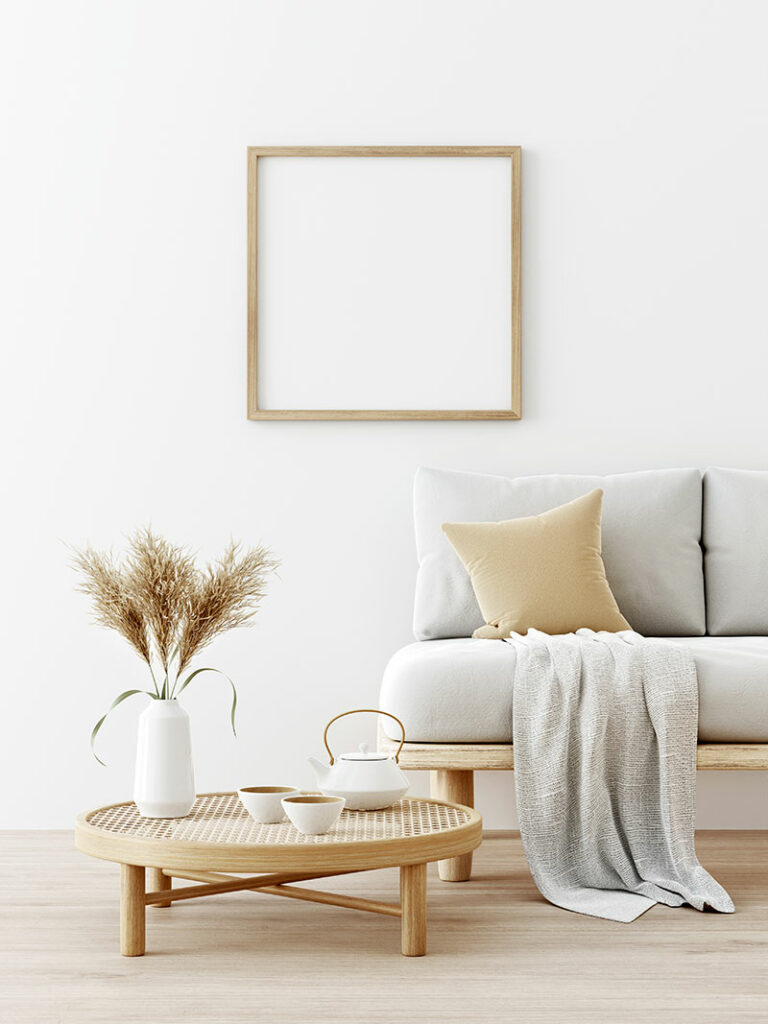 BOHO-CHIC: BETWEN GREEN AND ROMANTICISM
Opposite from minimalism, the Boho-chic style is lavish and characterised by the overabundance of furniture and details.
Like Japandi, Boho-chic comes from the union of two words: Bohémien, referring to the lifestyle of 19th century artists, and chic.
Boho-chic is all about mix & match, fusing old with new, and warm colours with cool ones, with a clear penchant for red, orange, yellow and brown but also purple, blue, olive green, khaki and cream white. It takes its inspiration from the warm tints of countries such as Morocco and India.
The boho-chic house is extravagant but comfortable, and is laden with flashy adornments: large paintings, sofas, poufs, cushions, rugs, vases, woollen plaids. The furniture is preferably made of natural materials such as wood, wicker, straw, with more props in leather, linen, cotton, jute and padded fabrics. Floral patterns alternate with geometric shapes and lines.
---
INTERCONNECTING, FLUID SPACES
2022 confirms the full emergence of a trend that had been around for some time: the opening up of the two most important rooms in the house, the kitchen and the living room, now merged into a single, seamless space featuring the same materials and finishings throughout. The design approach is that of functionality and maximum ease of use.
The use of glass, to create transparent walls and partitions, multiplies the possibilities of  playing with spaces, enhancing the elements of the furniture and their shapes.
The living-area, a fusion of the old living-room and the kitchen, is now the pulsing heart of the home, a privileged place for entertaining, well-being or sharing life's important moments with family and friends. But if the kitchen is ever more technological and innovative, with natural and metal-based materials, the lounge area is characterised by soft, padded furniture, with colours and textures conceived to convey a sense comfort.
On the wake of functional minimalism, furnishings are multi-functional, with foldable or extensible elements, like pull-out tables and rotating consoles. Wardrobes are increasingly spacious, with natural mechanisms, and functional operating spaces are often camouflaged or concealed.
---
THE GREAT COMEBACK OF WALLPAPER
The undisputed home design star of 2022. Wallpaper is back in fashion. Here are the five most significant trends:
MINIMALIST, JAPANESE STYLE
Japanese-inspired design is progressively catching on thanks to the success of the Japandi style, endorsed by writer Marie Kondo and made popular by the recent Tokyo Olympics.
Wallpapers taking after this style feature modular, geometric patterns set against monochromatic backgrounds that make them stand out.
Other solutions, more on the minimalist side, see tone-on-tone geometric patterns in delicate, neutral colours and a simple herringbone design.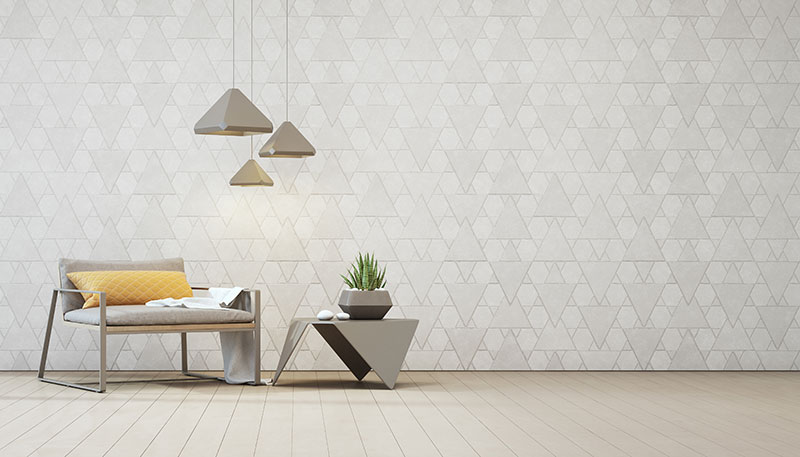 FLORAL INSPIRATIONS
Another wallpaper trend for 2022 is that of floral and botanical motifs. Vivid colours and realistic drawings of birds and butterflies are set against minimalist foliage backgrounds like palm trees or unexpected, quirky natural elements. Also, animalier is among the coolest trends in interior design and fashion alike.
The trend is strongly linked to the Biophilic Design philosophy, placing the relationship between Man and Nature at the heart of its design approach.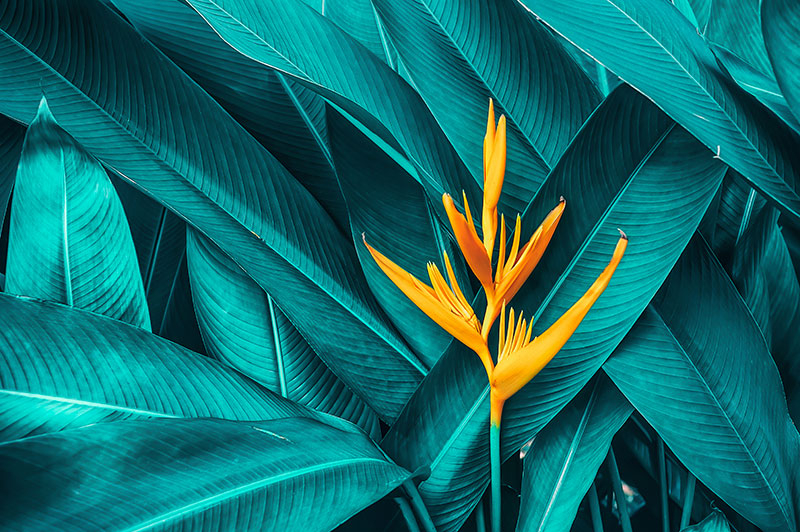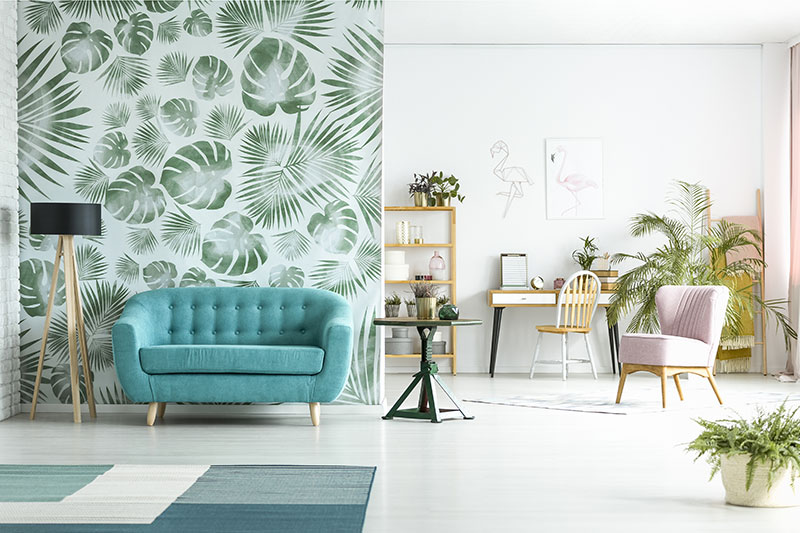 STRIPES ALL OVER
A fashion staple in the 1920's thanks to Coco Chanel, a Century on stripes are back in fashion as a top 2022 home design trend, be they Gingham style, true marinière, blurred, in wide or narrow blocks, or paint-like.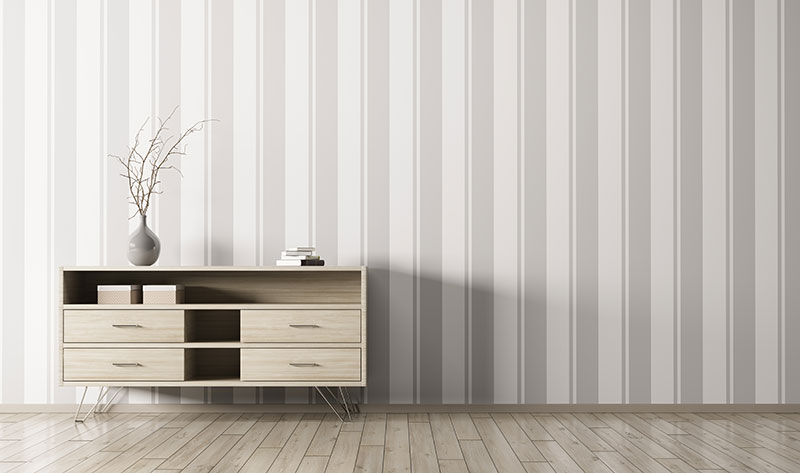 3D WALLPAPER
Through 3D printing, these wallpapers add volume to geometric patterns or natural materials such as marble or wood, with an ensuing tridimensional visual effect. A different sense of space is also given by wallpapers recreating tiled walls, or imitating concrete or terrace patterns.
ART DÉCO STYLE
The trend takes after the roaring twenties' art déco style, magnificently described in Francis Scott Fitzegerald's Great Gatsby: lavish geometric patterns, dynamic, elegant lines, sensual colours, in particular red, black and gold.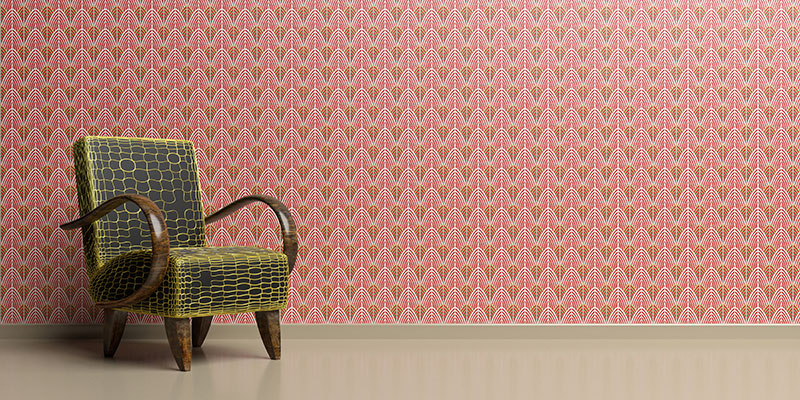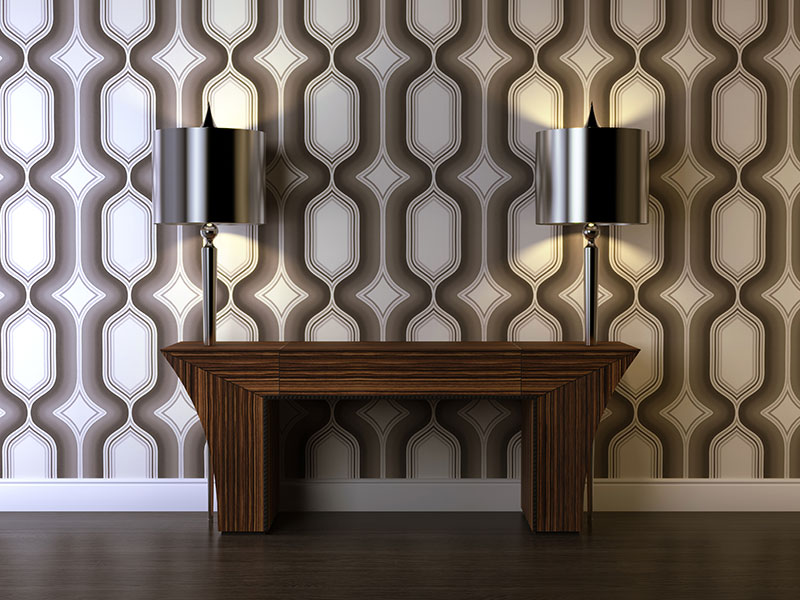 Copyright HOMA 2022- Issued By Homa Marketing dept. on June 2022