Research confirms the growing interest in plant-based foods on the part of consumers, but consumption of meat is still stable.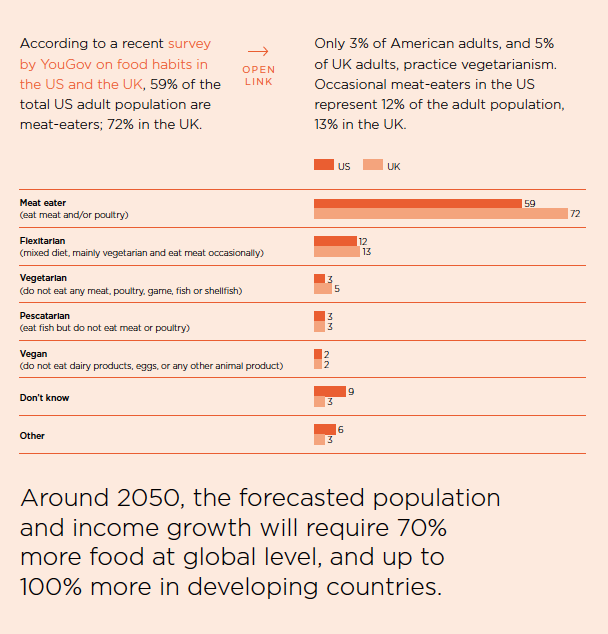 Food production, from field to plate, currently accounts for over a quarter of the world's greenhouse gas emissions. Yet it is possible to reduce our environmental footprint through the diet we choose to adopt. The growing attention to health, sustainability and ethics issues is pushing consumers to include more and more plant-based foods in their diets, a trend that emerged last year and that seems set to last.
Yet, according to FAO's latest data, the world's production of meat was more or less the same as the previous year since the production of poultry compensated for the decrease in the consumption of beef and pork. In fact, at global level, consumers are replacing red meat by white meat, and despite the fast growth of meat-alternatives, these haven't really affected the sales of real meat; for now, they represent an addition rather than a substitute.
2022 FOOD TRENDS
Zero waste:
consumers put the planet's wellbeing first, even before their own, which has been the top priority in the past months. According to Innova's Global Lifestyle & Attitude Survey, a sense of co-responsibility for the planet is guiding consumer choices: 43% of interviewees are committed to reducing waste, and 32% pledge moderation in eating.
True omnivores:
there's a growing number of consumers who, instead of concentrating on avoiding certain foods, are now open to non-traditional foods such as offal, lab-grown meat, insects and algae, indicated by the FAO as "the foods of the future".
E-food and automation:
online shopping for food has become part of the new post-pandemic normality. However, digitalisation not only concerns sales but the entire production and consumption process.
In the restaurant industry, automation will grow significantly, in particular for what concerns repetitive tasks involved in food preparation so that people can concentrate on more value-adding service activities.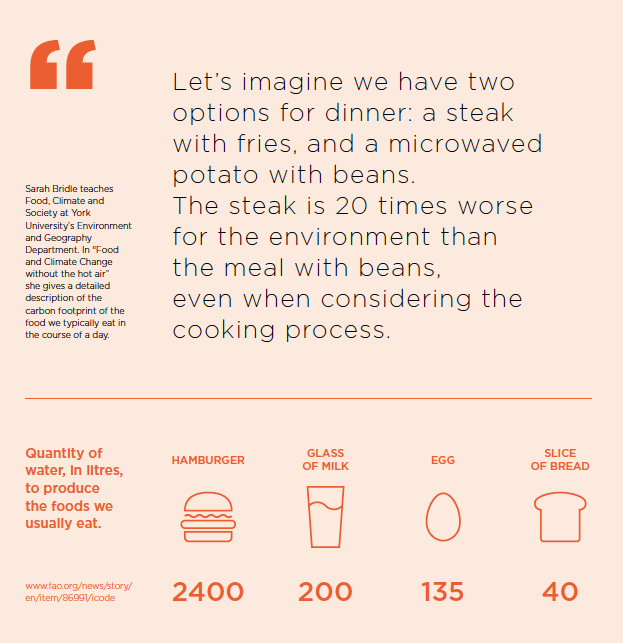 Boom of alcohol-free and carbonated functional drinks:
Whole Foods foresees the growth of carbonated soft drinks and probiotics beverages with botanical ingredients. It also confirms the growth forecast for low alcohol and alcohol-free drinks.
Talking labels:
Trust and transparency are inescapable values for any brand wanting to attract ever more educated, far-sighted and connected consumers. From a survey conducted by Label Insight and the Food Marketing Institute, it appears that 75% of consumers want more, and more accurate, information about the origin of the food they put on their table.
Laboratory superfoods:
The demand for foods high in vitamin D, Magnesium and probiotics is definitely on the rise. According to a survey by Innova Market Insights, 3 out of 5 consumers are constantly in search of food that can benefit mental health and improve the quality of sleep. Among trending foods, phytonutrients are natural compounds rich in proteins and vitamins that can help strengthen the immune system: research conducted by Businesswire shows that by 2023 they will represent an estimated 24 Billion dollars market.
Urban agriculture:
Urban agriculture, with its "zero km" and sustainable lifestyle aura, keeps on a steady growth path. According to some observers, the urban farming market, at global level, will reach the 9.9 Billion dollars mark by 2025 (it was1.2Billion dollars in 2015). Also on the upward trend, the interest for exotic fruit grown locally, and the re-discovery of traditional foods.
This article is an excerpt from the Homa white paper: "FOOD PRESERVATION" Copyright HOMA 2022- Issued By Homa Marketing dept.